Relationships Matter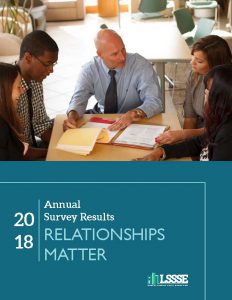 New Research Provides Insight into the Importance of Relationships in Law School 
Newly-released data by the Law School Survey of Student Engagement (LSSSE) provides a compelling look at the importance of relationships in law school.  Data from this Report, Relationships Matter, draw from the responses of more than 18,000 students at 72 law schools who participated in the LSSSE Survey in 2018.
"Law students do a phenomenal job of harnessing available resources and engaging with those around them," said Meera E. Deo, Director of LSSSE. "Whether connecting with faculty, staff, or classmates, they draw on these relationships to maximize opportunities in legal education. The majority of law students know that their professors care deeply about their professional achievements and well-being, that staff members are invested in their success, and that their peers want the best for them too."
Noteworthy findings from the report include:
Faculty
The vast majority of students (76%) report positive relationships with faculty, including interactions both in and out of the classroom.
93% believe their instructors care about their learning and success in law school.
83% consider at least one instructor a mentor whom they could approach for advice or guidance.
On multiple dimensions Black and Latinx students report more engagement and interaction with faculty than white and Asian American students.
While a majority of all law students (57%) discuss assignments with faculty often or very often, 65% of Black students do so, the highest of any racial or ethnic group, followed by 58% of Latinx students, 56% of white students and 53% of Asian American students.
Advising
Most students are pleased with the quality of advising and their relationships with administrators:
68% report that administrative staff are helpful, friendly, and considerate.
69% are satisfied with academic advising and planning.
66% are satisfied with career counseling.
64% are satisfied with job search help.
70% are satisfied with financial aid advising.
Students
76% of students report that their peers are friendly, supportive, and contribute to a sense of belonging. There are noticeable variations by race/ethnicity.
White students are most likely to report positive relationships with peers (79%), as compared to Black (69%), Asian American (71%), and Latinx (73%) students.
While high percentages of students report that academic performance (77%) and academic workload (76%) produce stress or anxiety, competition amongst peers does not create or magnify these feelings for most students.
Students report that competition amongst peers is most significant during the first year of law school but sharply declines each year. 42% of 1L students report that peer competition is a source of stress or anxiety. By the third year of law school that number drops to 24%.
---
Archives