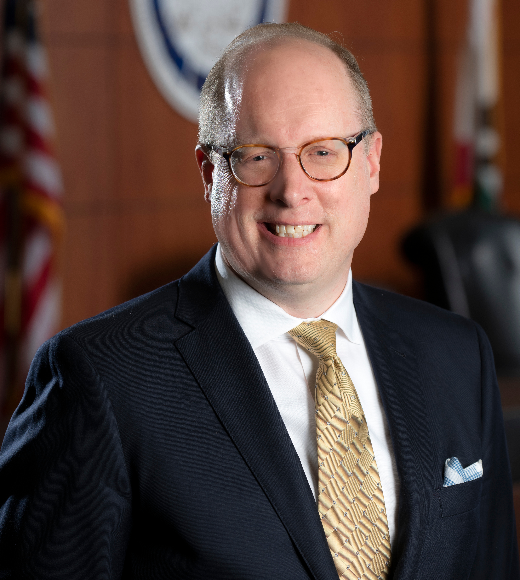 A Critical Tool for Dean and Faculty Leaders
Austen L. Parrish
Dean and Chancellor's Professor of Law
University of California, Irvine School of Law
The job of a law school dean has changed. If once to be "successful… you need[ed] to be a distinguished scholar," now the day-to-day responsibilities of a law dean are much more varied and complex. Just recently, a piece in Bloomberg Law explained that if the "[l]aw school dean once was a dream job . . . [t]hese days, the position is more like being chief executive of a sprawling business than a tweed-clad dispenser of constitutional wisdom." A landmark Association of American Law School's study on the American Law School Dean underscored that during the pandemic deans spent considerable time on crisis management, on issues related to diversity, equity, inclusion, and on topics of student life and student conduct. The pressures of continued intense hyper competition—whether that's recruiting and retaining talented students, faculty, and staff; the complexity and demands of core operations, including admissions, career services, communications, finance, student services, among others; and the need to enhance the school's research, teaching, and service missions, while navigating complex university labyrinths—in many ways reflects that higher education itself operates in a much more complex context than it once did.
As the role of the dean has become broader and more complex, the need for quality data upon which to track progress and base decisions has become more important. In the last decade, the resources available to law deans have expanded dramatically. AccessLex Institute's Analytix, which aggregates ABA data about legal education, its research and data portal, and its annual legal education data deck are some of the best and most useful examples. The AALS compendium of data resources, the Law School Admission Council's data on admissions and student recruitment, and the National Association of Law Placement's research and statistics are others. In my own experience, when it comes to gauging student engagement and the student experience, few resources are more useful than the Law School Survey of Student Engagement (LSSSE).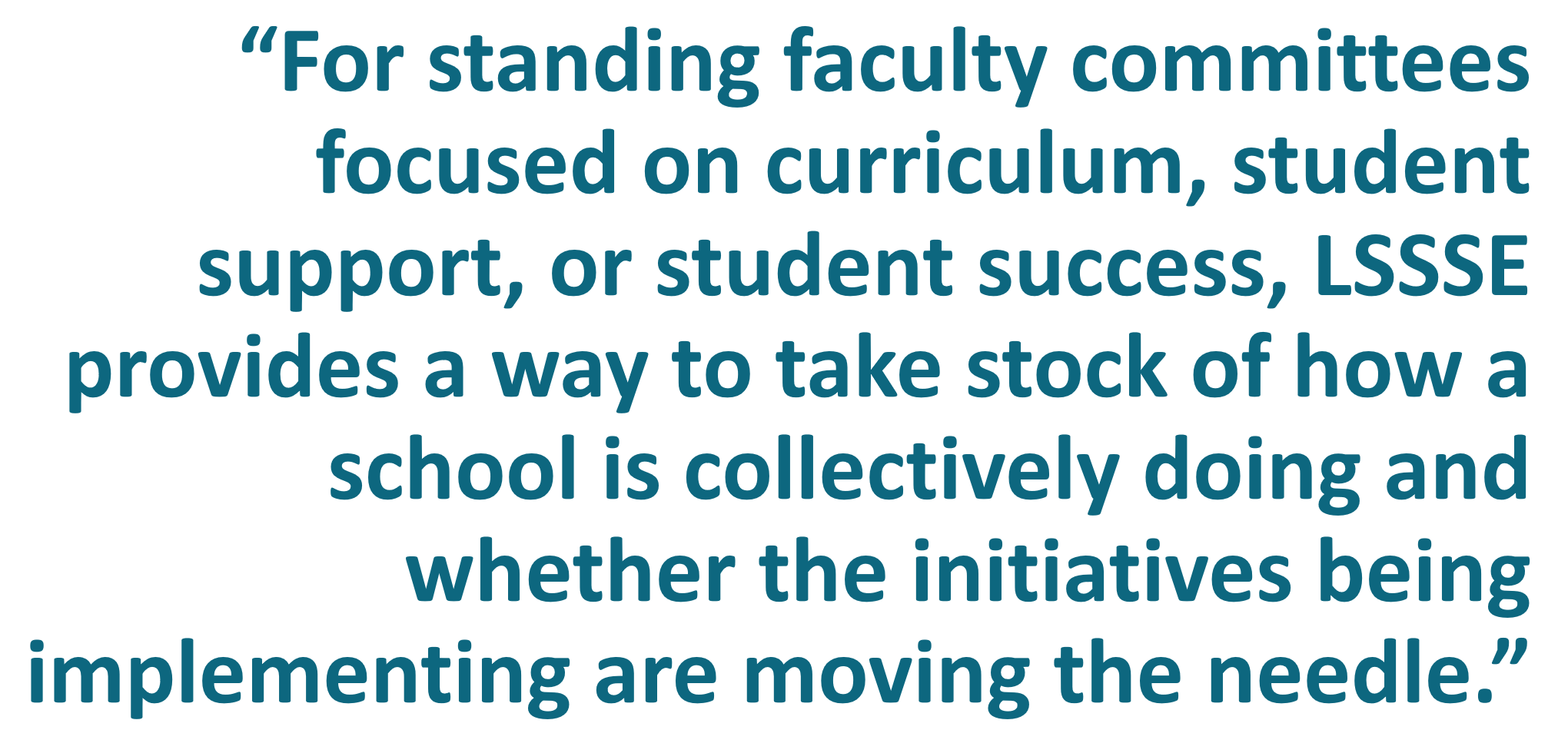 LSSSE helps with data-driven decision-making. Schools that have consistently taken advantage of LSSSE now have a wealth of longitudinal information from over 17 years of surveys. I've found, however, that the survey also has a more straightforward function. If we care about our students and their experiences, why wouldn't we want to track and measure student perceptions of that experience? And tracking those perceptions over time provides some indication of whether we're making progress on our goals. Comparisons with other institutions are useful in creating benchmarks too. For standing faculty committees focused on curriculum, student support, or student success, LSSSE provides a way to take stock of how a school is collectively doing and whether the initiatives being implementing are moving the needle.
Personally, I have found it's the bread-and-butter questions of the survey that are most helpful. How satisfied are our students in the career counseling, personal counseling, academic advising, financial aid counseling, as well as library and technology assistance they receive? How often and in what ways do our students interact with faculty? The responses don't tell you as a dean or a faculty committee what to do, and the questions measure perceptions as much as anything, but the survey responses provide important insight into the extent our students are feeling supported, and whether we're building the inclusive, rigorous academic community we want. And on a year-to-year basis, the survey provides red flags and early warning signals if there's a sudden drop in an area. It also provides reasons for celebration and congratulations to staff over sustained improvement. Of course, if you care about fundraising, questions asking students to evaluate their overall law school experience, and whether if they could start over they would attend the same law school, are critical. And for being a dean in California, where the bar exam is notoriously exclusionary, the new AccessLex and LSSSE partnership that seeks to explore the connections between student engagement and bar performance is a welcome development.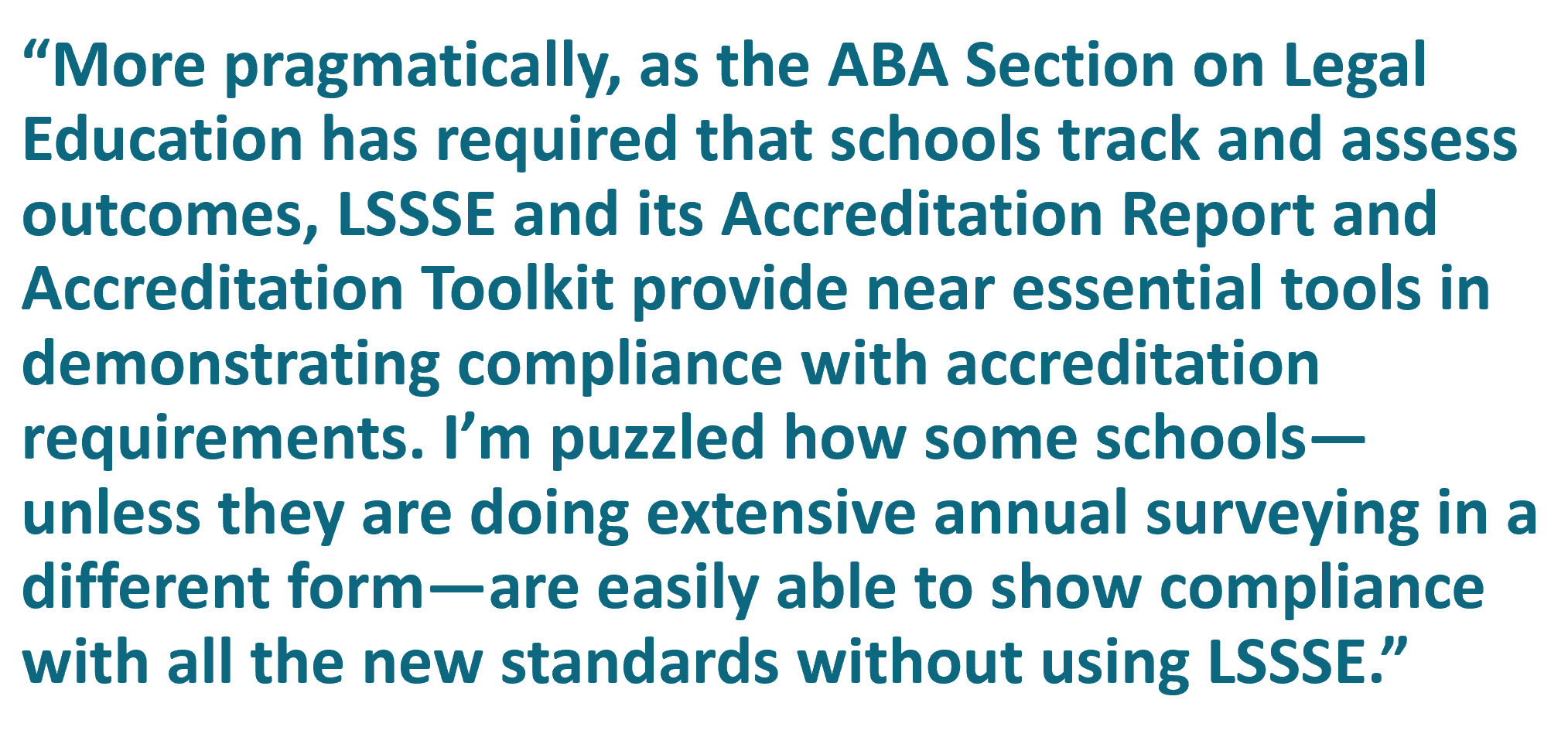 I've found LSSSE useful in other ways too. For one, LSSSE's special reports have been insightful on providing a perspective on issues that I care about, and that I know many of my dean colleagues care about too. The 2020 Annual Report, Diversity & Exclusion, or the special report on The Changing Landscape of Legal Education, which provides a 15-year retrospective, both come to mind. More pragmatically, as the ABA Section on Legal Education has required that schools track and assess outcomes, LSSSE and its Accreditation Report and Accreditation Toolkit provide near essential tools in demonstrating compliance with accreditation requirements. I'm puzzled how some schools—unless they are doing extensive annual surveying in a different form—are easily able to show compliance with all the new standards without using LSSSE.
LSSSE has been useful for another reason. LSSSE now houses the largest repository of law student data in the U.S. with over 400,000 responses over seventeen years. That's a powerful tool for researchers, but it's also just helpful for deans to do their jobs. It's not enough for a law dean to know what's happening in their own school. Alumni, provosts, presidents, and other stakeholders want to know trends in legal education. Having a broader, empirical view of the changes of legal education is useful to rebut persistent misinformation and caricatures about legal education.
LSSSE has shown how legal education has changed in the last seventeen years.  The surveys show that there's room for innovation and improvement and that rising student debt remains a concern. Yet on balance the surveys tell a positive story of school success. Overall levels of satisfaction remain high, and schools have made progress in improving the quality of legal education and the commitment to student support. While variation between law schools can be significant, the surveys reveal an American legal education system that is increasingly diverse, has strong student services with engaged full-time teachers and scholars, and underscores that schools overall have strengthened their commitment to supporting students in their path to launching satisfying careers (with academic, career, and personal advising).
LSSSE is a valuable tool for deans. One that I've used consistently over the last decade, and one I will continue to use.