Law student organizations are important venues for developing law students' professional identities. Through networking, invited speakers, and events, these organizations foster a sense of community and provide students the opportunity to more intensely explore areas of law that interest them. [1]
Law student organizations are among the most popular enriching activities at law schools. Nearly three-quarters (73%) of law students either plan to join a law student organization or have already done so.  About 31% of students have served as law student organization leaders, and another 18% plan to take on a leadership role before they graduate. Men are less likely to join student organizations compared to women and those of another gender identity. In 2022, just 51% of men had already joined an organization compared to 64% of women and 75% of those with another gender identity.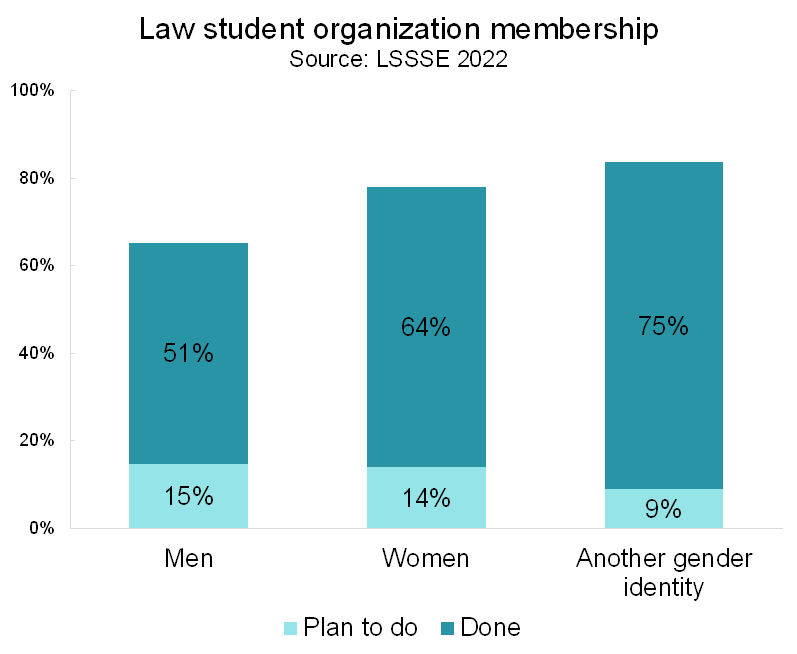 Black students are particularly engaged as members of law student organizations, with 65% of Black students participating and another 20% planning to do so. Native Hawaiian students, American Indian students, and Alaska Native students have similarly high levels of engagement with law student organizations, while Asian and white students have the lowest participation rates.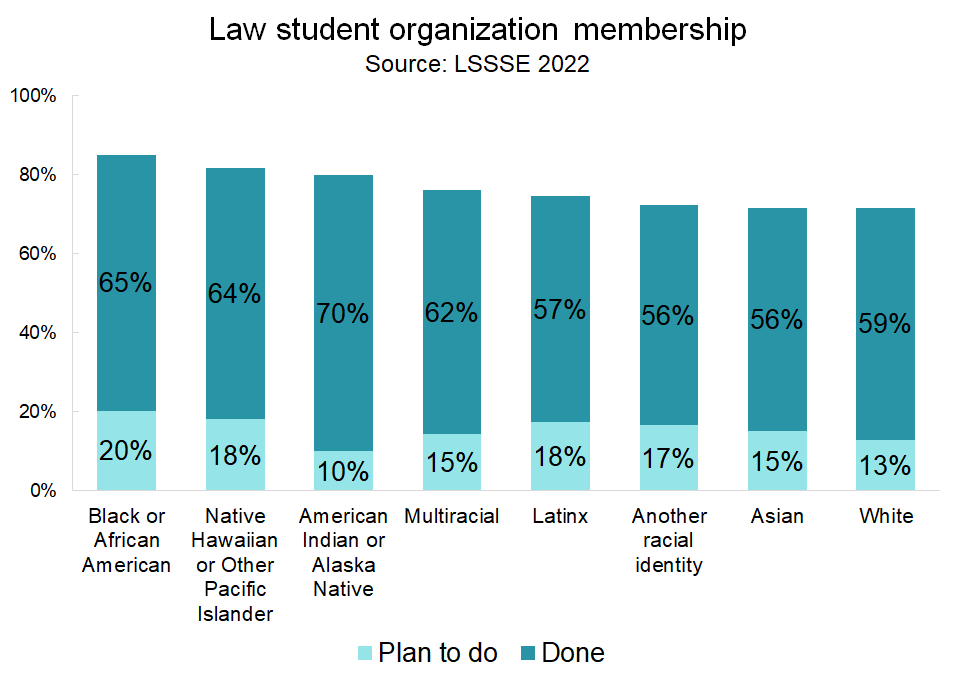 Women, gender-diverse people, and students of color are most likely to join student organizations. Thus, these organizations likely play a vital role in connecting law students who traditionally face higher barriers in accessing higher education and assimilating successfully into the legal profession. Law student organizations also given students the opportunity develop their leadership skills and to work with their professors and classmates in a non-classroom context.
____
[1] See Andrew Hitt, The importance of student organizations, (Aug. 27, 2009), https://law.marquette.edu/facultyblog/2009/08/the-importance-of-student-organizations/