Law schools offer services to support student success both during law school and after graduation. For seven core law school services, LSSSE asks students to either rate their satisfaction or to indicate that they did not use a particular service during the current school year. Student satisfaction levels can help guide efficient resource allocation, and non-use rates can highlight services that are overlooked or underused.
Service use was quite high among U.S. law students in general. The greatest demand was for academic advising services, which were used by 93% of students. Nearly as many students (92%) sought career counseling. Personal counseling was the least used resource, with only 61% of students giving a satisfaction rating for this service.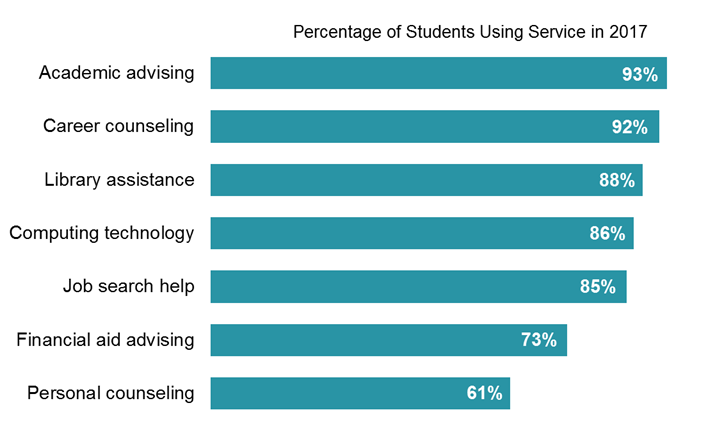 Among law students who answered all seven service-use questions, the average number of services used was 5.8. Part-time students used an average of 5.1 services, which was less than full-time students, who used 5.9 services on average.
Each service showed slightly higher usage among 2L and 3L students than among 1L students. This makes intuitive sense for certain services (such as job search help) that may be more relevant during later stages of the law school experience. However, this finding is somewhat surprising for more general student services such as library assistance and computing technology.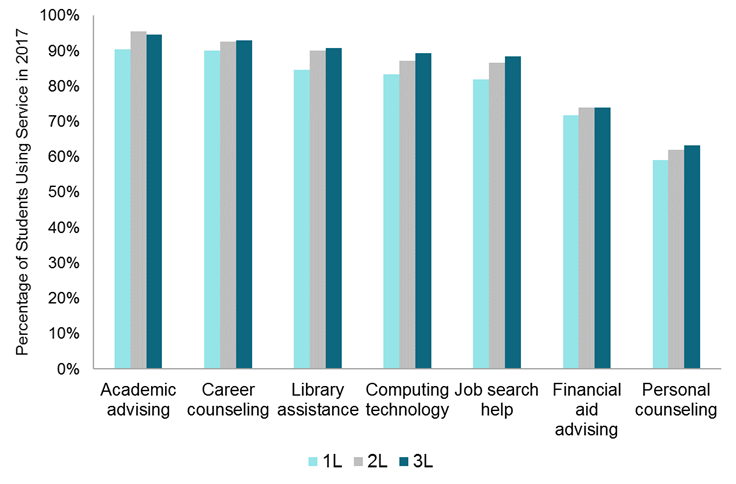 Finally, service usage has fluctuated somewhat since LSSSE started measuring student satisfaction in 2004. Use of personal counseling is trending upward, with 53% of students using this service in 2004 and 61% of students using it in 2017. Conversely, use of computing technology has decreased markedly, with 96% of respondents reporting using law school technology in 2004, compared to 86% in 2017.