The 2020-2021 academic year was unlike any other, forcing students and instructors to adapt to a different way of living and learning. Prior to the pandemic, law schools were less likely than other sectors of academia to embrace online learning. But when it became clear that COVID was not going away, many law schools shifted to primarily online interactions. The Online Learning module, which debuted with the spring 2021 LSSSE survey administration, was developed to capture students' perceptions and experiences with online classes during this peculiar academic year and potentially beyond. Although the abruptness of the transition to online learning and the external stressors inherent to pandemic life may make these data unique in some ways, in other ways they are an excellent starting point for law schools to learn about how to structure their curriculum to leverage the strengths of the online environment, even as traditional in-person learning resumes.
What types of online learning experiences were law students having in 2020-2021? Nearly all students who took online courses had at least some synchronous element in their courses. Nearly two-thirds of students typically had synchronous courses while another third experienced a mixture of synchronous and asynchronous content. Only about two percent of students typically received only asynchronous content.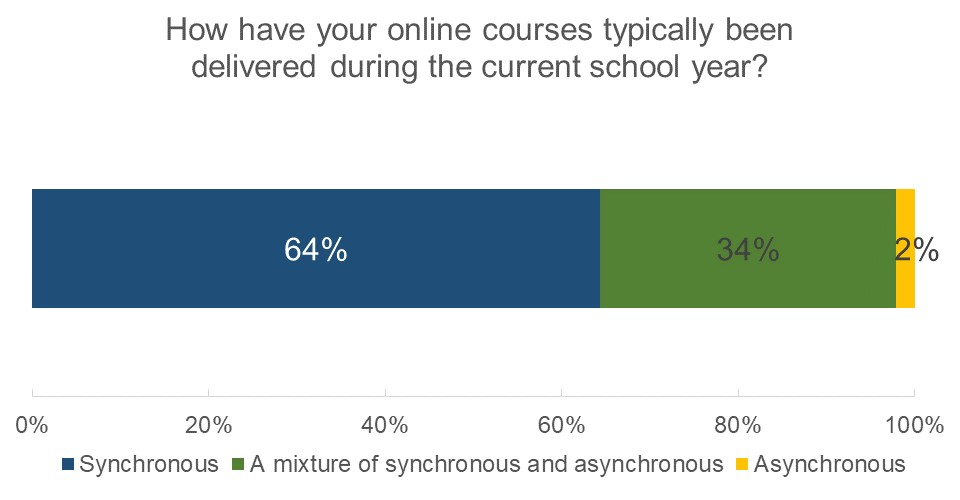 Most law students were fairly comfortable with online learning. Seventy percent of students were mostly comfortable or very comfortable interacting with the instructor of their online courses, and around 65% felt similarly about interacting with the other students. About two-thirds of students were comfortable with online discussion tools such as discussion boards and forums and about two-thirds of students were comfortable with live online course discussions.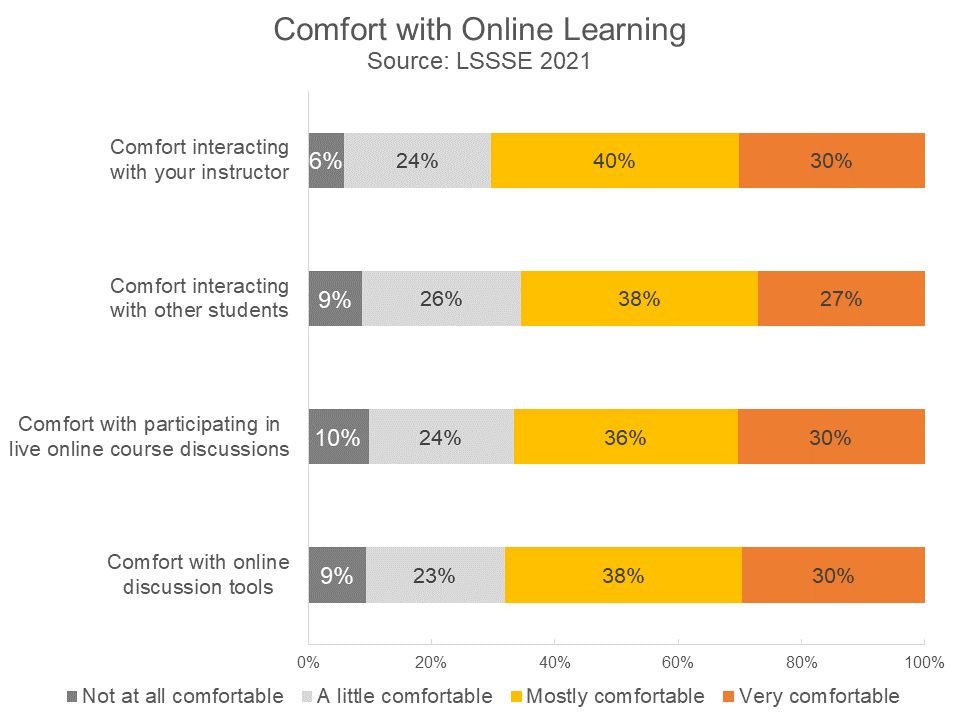 Interestingly, older students were more likely to be comfortable with virtually all aspects of online learning relative to their younger peers. In fact, comfort with online learning tools increased steadily across age brackets. The vast majority (86%) of students over 40 were comfortable participating in live online discussions compared to only around 62% of students 25 or younger.
This age discrepancy in participation exists in physical classrooms too. In 2019, before the widespread adoption of online law classes, 80% of students over age 40 often or very often asked questions in class or contributed to class discussions, compared to 48% of those 22 or younger and 54% of those between 23 and 25. In fact, students under age 30 may be somewhat more comfortable with online course discussions than in-person ones, even though their overall participation is less than that of their older classmates regardless of the class setting.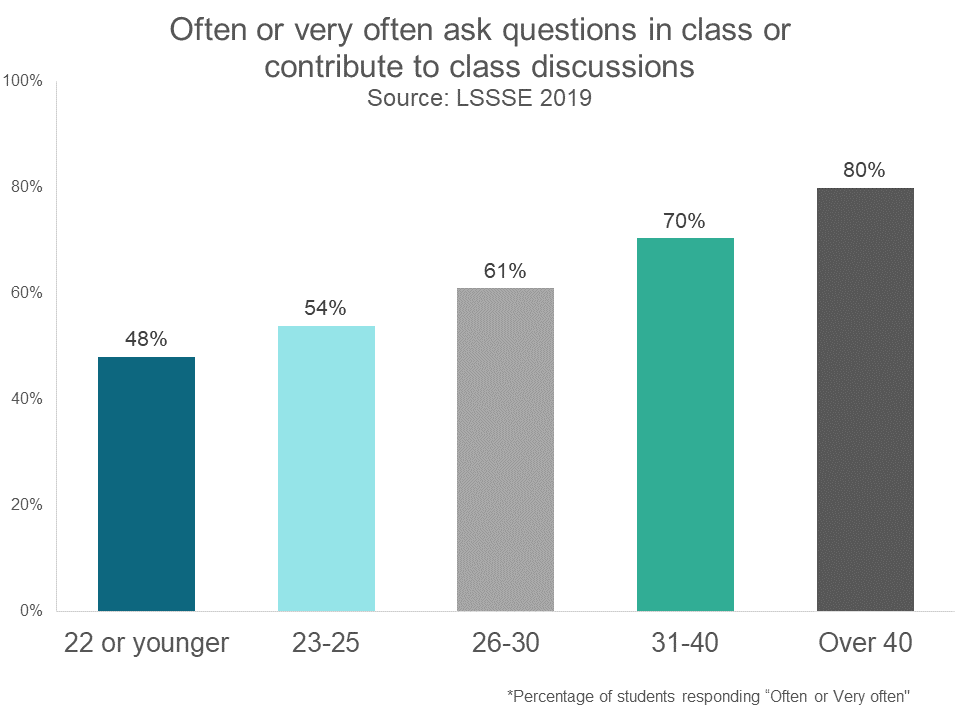 Older students were also more likely to be comfortable interacting with their peers and instructors online. Only 63% of students age 22 or younger were comfortable interacting with their instructors online, compared to a full 85% of students over 40. Among students between the ages of 23 and 25 (the most common age for a law student), less than two-thirds were comfortable interacting with other students in their online classes, compared to a full 78% of students over 40.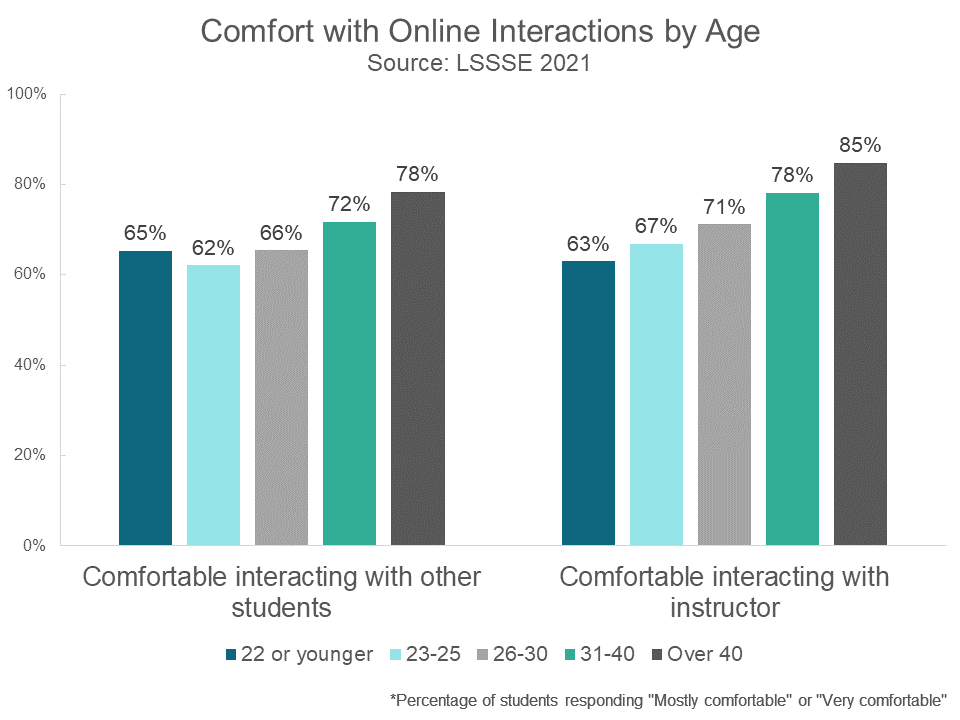 Although popular media tends to suggest that younger people are more adept with technology, the oldest Millennials – the first generation to live much of their lives online – are now in their forties. Perhaps these older students have adapted to so much online technology across their personal and professional lives that another pivot was not as disruptive as it was for their younger colleagues. Regardless of the reason, the LSSSE data show clearly that law schools should make a deliberate effort to support the technological skills and online engagement levels of their youngest students.