The latest LSSSE Annual Results, Success with Online Education (pdf), focuses on the largely positive online learning experiment that law schools embarked upon due to the COVID-19 pandemic. This week and next week we will share selected snippets from the results. In this post we will describe how the switch to online learning impacted relationships among law students, law faculty, and administrators.
LSSSE data confirm other research showing how law school faculty have invested an enormous amount of energy and effort to connect with students, regardless of instructional modality. A full 72% of students taking mostly in-person classes have strong relationships with faculty (5 or higher on a 7-point scale), and 71% of mostly online students feel the same way. Students remain highly engaged with faculty in an online environment.
Online students and in-person students are equally likely to have positive relationships with administrative staff. A little over half (57%) of each group rate their relationships with their law school's administrators a 5 or higher on a 7-point scale. Career services-oriented staff could consider using these relationships to bring more targeted career guidance to online students to narrow the gap in career preparedness between online students and in-person students. However, the relatively low percentage of both in-person and online students who have strong relationships with staff is a point of concern that should be addressed to better support law student development.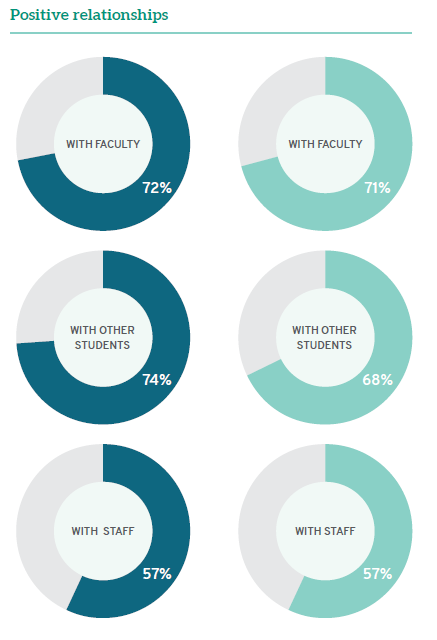 Despite similarly positive relationships with professors, students in mostly online classes are less likely than others to have strong relationships with each other. Only 68% of online students rate their relationships with their classmates positively, compared to nearly three-quarters (74%) of in-person students. There is again a disparity across class years, with 1Ls having similarly positive peer relationships regardless of mode of attendance and online 3Ls being much less likely to enjoy strong relationships with their peers than 3Ls attending in person. There may be a loss of social connections among online students because of a lack of the sort of incidental contact that builds relationships over time.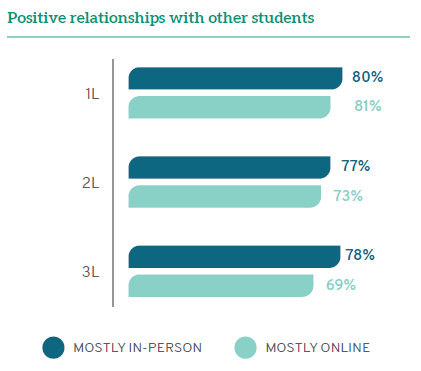 Next week we will discuss the learning experience in the virtual classroom. For the complete story, you can view the entire report on our website.