In spite of many challenges, law students report relatively constant positive levels of satisfaction with legal education over the last decade and a half. Our 2020 special report The Changing Landscape of Legal Education: A 15-Year LSSSE Retrospective shares longitudinal findings on select metrics as well as demographic differences within variables to catalog how legal education has changed over time. In this blog post, we highlight the remarkably high levels of satisfaction that students have expressed about their law school experience since LSSSE's inception.
When students were asked, "How would you evaluate your entire educational experience at your law school?" over eighty percent of all law students rated their experience as at least "good" with roughly one-third of all students saying they have enjoyed an "excellent" law school experience.

If we consider student satisfaction with a number of different encounters—including academic advising, career counseling, personal counseling, and job search help—we see a consistent pattern of improvement over fifteen years. While over half (53%) of students who sought out academic support were "satisfied" or "very satisfied" with advising and planning in 2004, that number grew to almost three quarters (71%) of all students by 2019. Interestingly, there are also more students using academic advising and planning today than in years past: a full 94% of students used those services last year.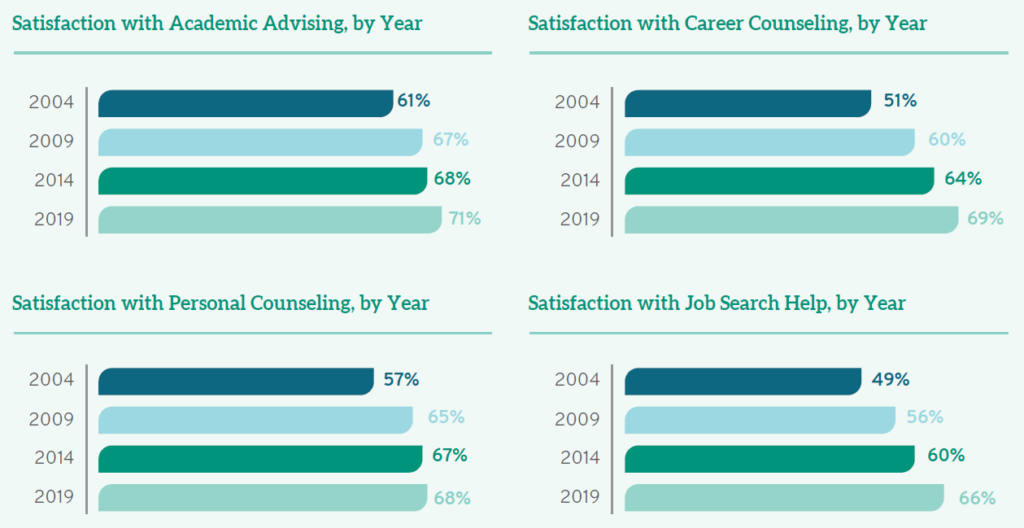 Students also appreciate how the significant investment of career counselors improves their professional prospects. While fifteen years ago, 51% of students were satisfied with career counseling (and 9.9% of these were "very satisfied), satisfaction has grown steadily over time with 60% satisfied in 2009, 64% in 2014, and a remarkable 69% satisfied in 2019 (with 22% of those noting they are "very satisfied"). As with academic advising, higher percentages of students are taking advantage of career counseling—only 8.0% of students in 2019 did not use this service (compared to 15% in 2004).

The vast majority of students sought assistance with the job search in 2004 and in subsequent years. While almost half (49%) of students were satisfied with staff efforts to provide job search help in 2004, those numbers have increased over time to 56% in 2009, 60% in 2014, and now to 66%. Although there is room for improvement, students are noticing and appreciating improvement over time.