A majority of students are pleased with the quality of advising and their relationships with administrators:
69% are satisfied with academic advising and planning.
66% are satisfied with career counseling.
64% are satisfied with job search help.
70% are satisfied with financial aid advising.
68% report that administrative staff are helpful, friendly, and considerate.
The quality of relationships with advisors and administrators is both positive and relatively consistent across race, gender, and year in school. Seventy percent of 1L students (and 67% of 2Ls and 3Ls) report that administrative staff are helpful, considerate, and flexible. Seventy-nine percent (79%) of students consider at least one administrator or staff member as someone they could approach for advice or guidance on managing the law school experience. Higher percentages of Black students (87%) rely on these relationships than students from other racial backgrounds (79% for Asian American, white, and Latinx students).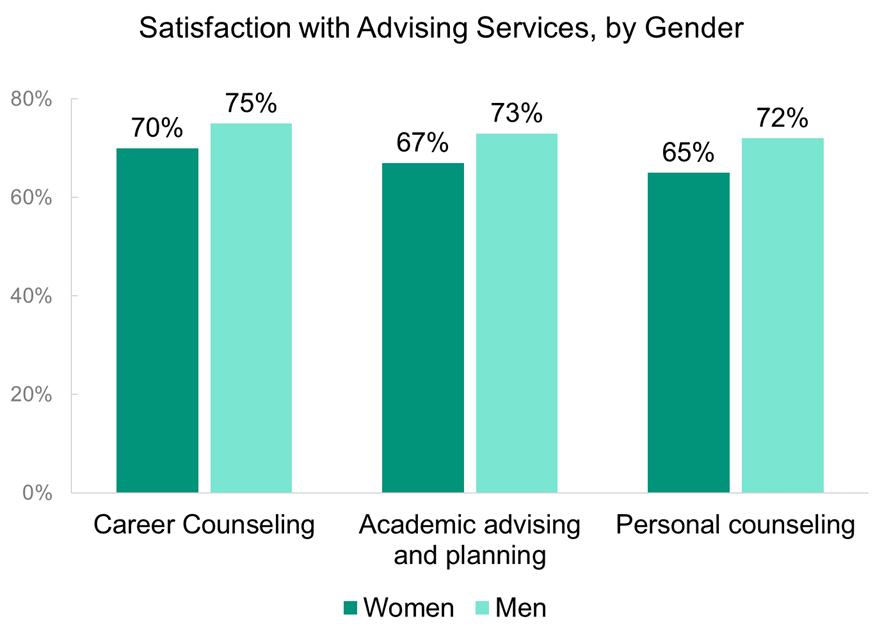 Interactions with academic support personnel drive whether a student would choose to attend the same law school again as well as overall satisfaction with their law school experience. Though students report positive relationships with administrative staff, satisfaction with advising services is less consistent and more varied across race/ethnicity, year in school, and gender. Sixty-nine percent of all respondents report that their law school provides the support they need to succeed academically, with higher perceptions of support among 1L students. Similarly, academic advising, career counseling, and job search help are key support services that students appreciate greatly when they begin law school, though they are more dissatisfied as graduation nears.