Decades of research on student engagement and student learning demonstrate the importance of peer interactions. Engaging with classmates in meaningful ways contributes to a deeper sense of belonging and enhances understanding of classwork, leading to better academic and professional outcomes (Hurtado & Carter, 1997; Pascarella & Terenzini, 2005; NSSE, 2013).
Although law school is an inherently stressful and anxiety-producing endeavor, the vast majority of students (76%) report that their peers are friendly, supportive, and contribute to a sense of belonging. There are noticeable variations by race/ethnicity. White students are most likely to report positive relationships with peers (79%), as compared to Black (69%), Asian American (71%), and Latinx (73%) students.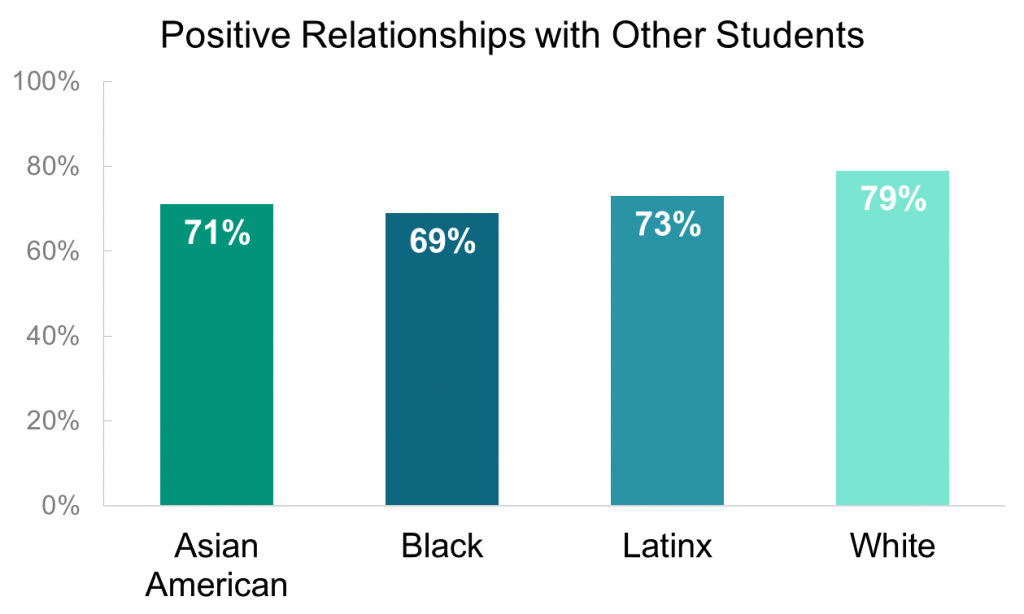 The Student Stress Module examines law student stress and anxiety—their sources, impact, and perceptions of support offered by law schools to manage stress and anxiety. One question asks directly about various sources of stress and anxiety that students may face in school. High percentages of students report that academic performance (77%) and academic workload (76%) produce stress or anxiety, but competition amongst peers does not create or magnify these feelings for most students. Students report that competition amongst peers is most significant during the first year of law school but sharply declines each year. Forty-two percent of 1L students report that peer competition is a source of stress or anxiety. By the third year of law school that number drops to 24%.