Because LSSSE has been annually administered since 2004, the survey was well-positioned to capture shifts in students' perceptions and behaviors during the uniquely challenging 2020-2021 academic year. Our 2021 Annual Results, The COVID Crisis in Legal Education (pdf) draws from the core survey and two new modules ("Coping with COVID" and "Experiences with Online Learning") to identify key struggles and successes of legal education during a period marked by uncertainty and disruption.
In the midst of a challenging year, some positives emerge from the data. Overall satisfaction remained high throughout legal education and comparable to past years. A full 78% of students in 2021 rated their entire educational experience in law school as "good" or "excellent," which is similar to rates from recent years (82% in 2018, and 81% in 2019 and 2020). This is a testament to the significant efforts of faculty, staff, and administrators who pivoted to meet student needs as well as to the resiliency of the students themselves.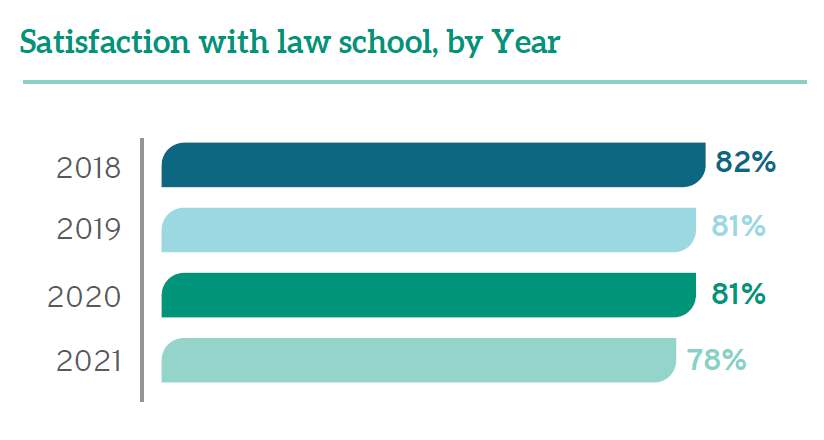 Nevertheless, the ability to forge and foster relationships has been especially difficult during the pandemic, which is borne out in the data. The percentage of students reporting positive relationships with staff dropped from 68% in 2018 to 59% in 2021—the lowest percentage recorded since LSSSE began collecting data on student-staff interactions in 2004. During those same years, positive student relationships with faculty and fellow students dropped just slightly from 76% to 72% and 76% to 73%, respectively. A full 93% of students appreciated that their law professors showed "care and concern for students" as the pandemic raged around them. First-year students were less likely to report positive relationships than 2Ls and 3Ls—likely because upper-class students could build on foundations they had cemented pre-COVID while 1Ls were attempting to start relationships from scratch in the midst of the pandemic.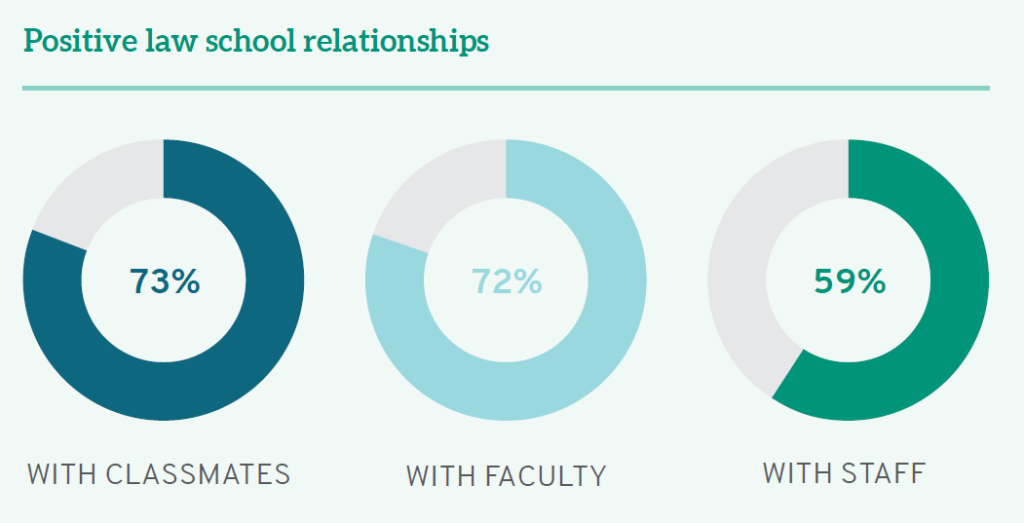 The core of legal education remains relatively unchanged. Every year from 2018 to 2021, 85% of students have acknowledged that their schools contributed "quite a bit" or "very much" to their ability to acquire a broad legal education. There were also minimal changes this year compared to years past with regard to students developing legal research skills (80- 83%) and learning effectively on their own (81-82%).
Yet the intangibles of legal education were significantly affected by COVID-19, with potential negative consequences on the professional competency of these future lawyers. A full 90% of students noted that COVID interfered with their ability to participate in special learning opportunities, including study abroad, internships, and other field placements. While discussions about course assignments and faculty feedback on academic performance remained constant, just one-third (33%) of all law students found frequent occasions to talk with faculty members or other advisors about career plans or the job search process (down from 40% in 2018), and only 19% frequently discussed ideas from readings or classes with faculty members outside of class (down from 25% in 2018). There were also fewer opportunities for students to work with faculty members on activities other than coursework.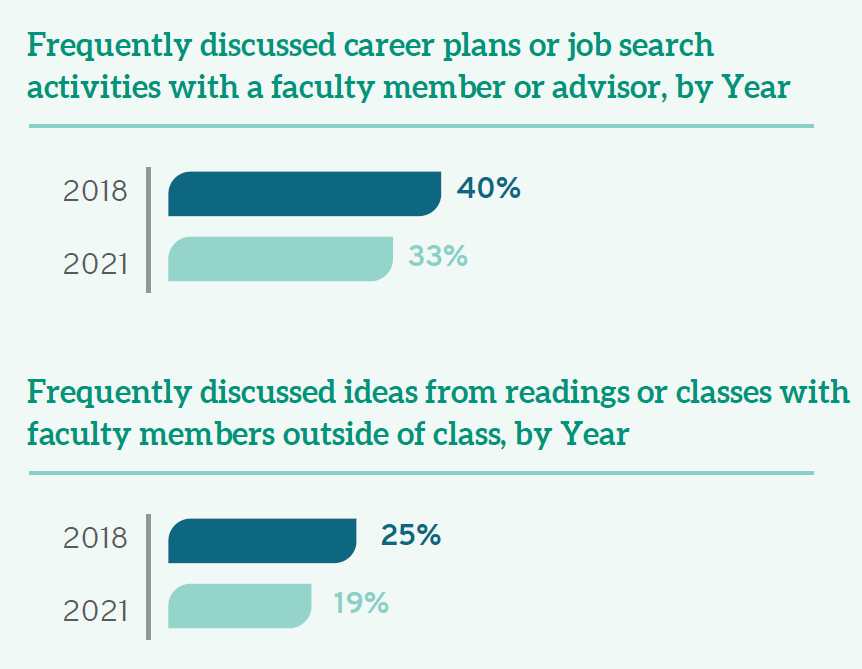 The COVID-19 pandemic has disrupted nearly all aspects of life, and law school is no exception. Although law schools did their best to continue on with the education of the next generation of lawyers, there were still marked decreases in student engagement, particularly in building relationships and gaining experience outside the classroom. In our next post, we will explore the areas in which law students struggled the most in their lives and show how the pandemic disproportionately impacted those students who were already the most vulnerable.