This year for the first time, LSSSE introduced a set of questions focused on diversity and inclusion that supplement related questions from the primary survey. The Diversity and Inclusiveness Module examines environments, processes, and activities that reflect the engagement and validation of cultural diversity and promote greater understanding of societal differences. The 2020 LSSSE Annual Results Diversity & Exclusion report presents data about how diversity in law school can prepare students for the effective practice of law upon graduation. In this post, we explore how sense of belonging at law school varies among students from different backgrounds.
Scholarly research indicates that students who have a strong sense of belonging at their schools are more likely to succeed.1 Generally, belonging refers to feeling like part of the institutional community, fitting in, and being comfortable on campus.2 Using a number of separate indicators, LSSSE data on diversity and inclusiveness show that White students are more likely to have a strong sense of belonging than their classmates of color. For instance, when asked whether they feel they are "part of the community at this institution," a full 31% of White students strongly agree—though lower percentages of students of color do, including only 21% of Native American and Black students. Even more problematic when considering the importance of building an inclusive community: women of color are more likely than men from their same racial/ethnic backgrounds to feel that they are not part of the campus community—including a whopping 34% of Black women law students nationwide. First-gen students also deserve greater support, as only 23% "strongly agree" that they feel like part of the community at their law school, compared to 31% of students whose parents have at least a bachelor's degree.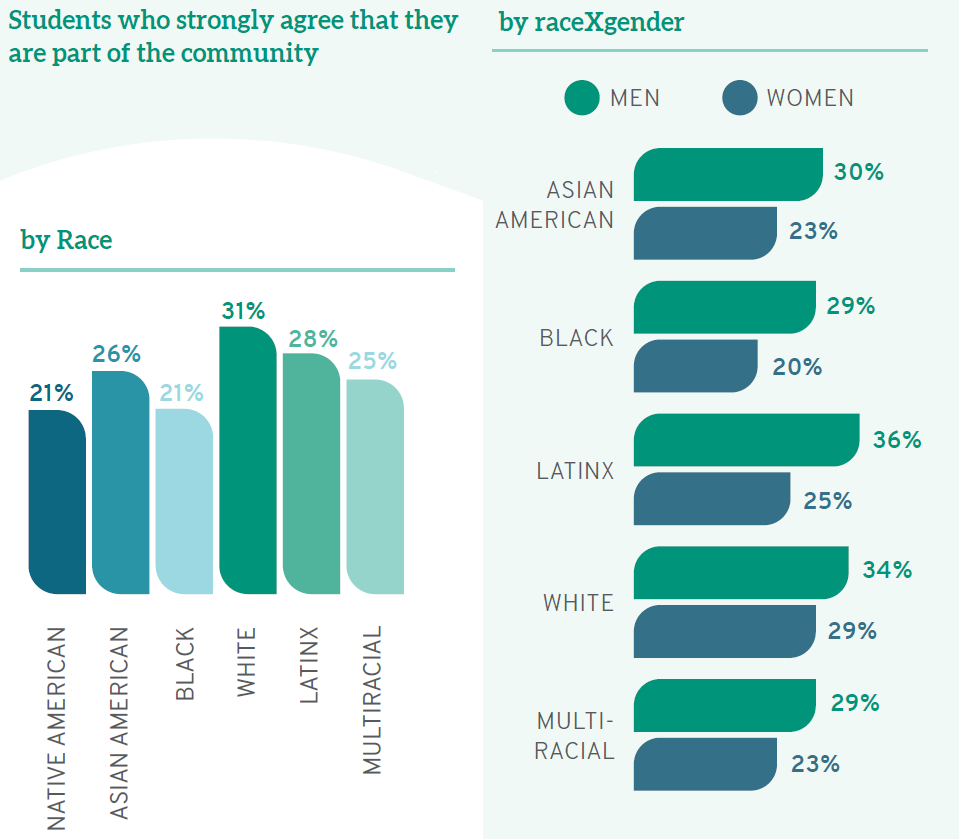 Students of color are also more likely than their White classmates to think their schools do "very little" to ensure students are not stigmatized based on various identity characteristics, including race/ethnicity, gender, religion, and sexual orientation. While only 9.3% of White students agree, 14% of Native Americans, 18% of Latinx students, and a full quarter (25%) of Black students believe their schools do "very little" to emphasize that students are not stigmatized based on identity. Similarly, 11% of heterosexual students think their schools do only "very little" to avoid identity-based stigma; conversely, 20% of gay students, 16% of lesbians, 15% of bisexual students, and 19% of those who identify as another sexual orientation see their schools as doing "very little" in this regard. Taken together, these findings suggest that those most likely to suffer stigma are also those most likely to think their schools do very little to protect them.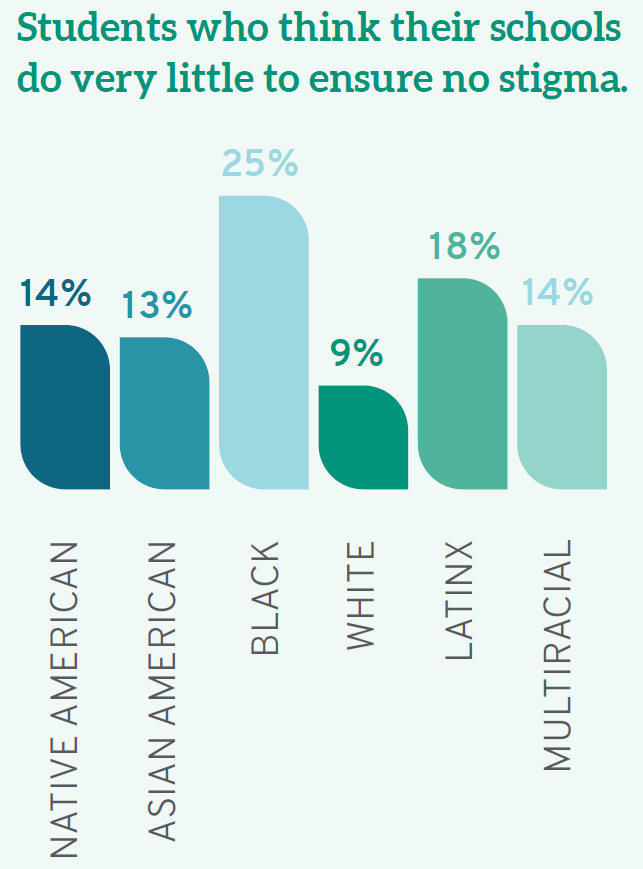 White students are also more likely than those from other backgrounds to be comfortable being themselves on campus, with only 12% noting they are not. Yet one out of every five (21%) law students who is Native American, Black, or Latinx notes that they do not "feel comfortable being myself at this institution."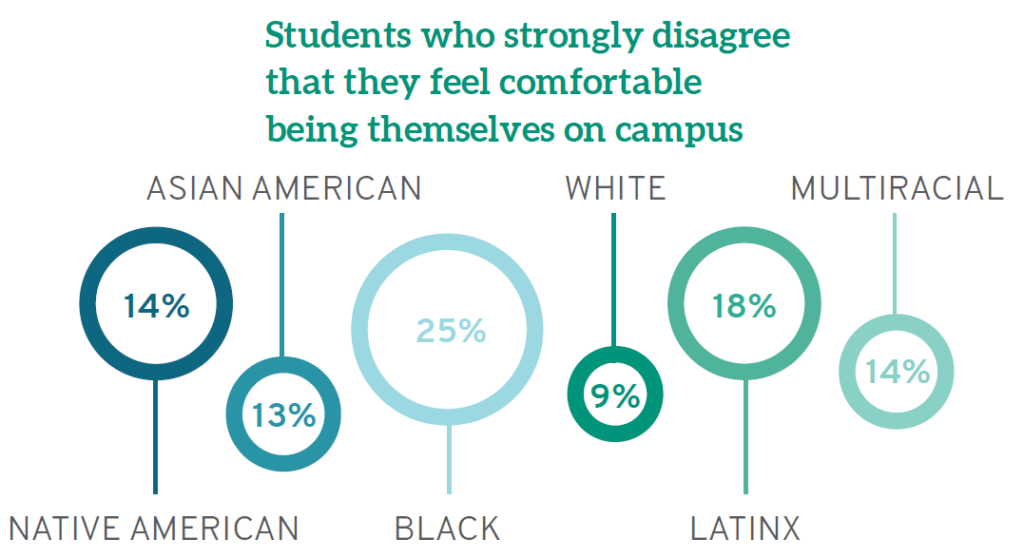 There are also disturbing disparities when considering parental education—a strong proxy for family socioeconomic status. Being comfortable on campus increases almost in lockstep with increases in parental education; a full 32% of law students whose parents did not finish high school are uncomfortable being themselves on campus, compared to just 12% of those who have a parent with a doctoral or professional degree.
The overarching theme from this report is that those who are most affected by policies involving diversity—the very students who are underrepresented, marginalized, and non-traditional participants in legal education—are the least satisfied with diversity efforts on campuses nationwide. Nontraditional students remain marginalized on campus, left out of the community, devalued, and underappreciated. The solution is clear: institutions should place greater emphasis on valuing students from all backgrounds, creating an inclusive community, and integrating diversity into the curriculum. With that foundation, law schools can prepare students to interact in meaningful ways with diverse clientele, to first recognize and then resist instances of discrimination or harassment, and to meet the many challenges they will confront in their roles as lawyers and leaders.
1 Kuh, G. D., Kinzie, J., Buckley, J. A., Bridges, B. K., & Hayek, J. C. (2006). What matters to student success: A review of the literature (ASHE Higher Education Report). San Francisco, CA: Jossey-Bass.
2 Strayhorn, T. L. (2018). College students' sense of belonging: A key to educational success for all students. New York, NY: Routledge.